Links International Journal of Socialist Renewal
seeks to promote the exchange of information, experience of struggle, theoretical analysis and views of political strategy and tactics within the international left. It is a forum for open and constructive dialogue between active socialists from different political traditions. It seeks to bring together those in the international left who are opposed to neoliberal economic and social policies, and reject the bureaucratic model of "socialism" that arose in the Soviet Union, Eastern Europe and China.
Inspired by the unfolding socialist revolution in Venezuela, as well as the continuing example of socialist Cuba, Links International Journal of Socialist Renewal is a journal for "Socialism of the 21st century", and the discussions and debates flowing from that powerful example of socialist renewal.
Links is also proud to be the sister publication of Green Left Weekly, the world's leading red-green newspaper, and we urge readers to visit that site regularly.
Please explore Links and subscribe (click on "Subscribe to Links" or "Follow Links on Twitter" in the left menu). Links welcomes readers' constructive comments (but please read the "Comments policy" above).
This site is best viewed with the Firefox internet browser.
Rally in favour of a Liberal-NDP coalition, Toronto, December 6, 2008.

By Richard Fidler
OTTAWA -– December 8, 2008 -– In a classic 19th century work, English journalist Walter Bagehot divided the constitution into two parts. The "efficient" part — the executive (cabinet) and legislative — were responsible for the business of government. The "dignified" part, the Queen, was to put a human face on the capitalist state. Bagehot noted, however, that the Queen also had "a hundred" powers called prerogatives, adding: "There is no authentic explicit information as to what the Queen can do…."[1]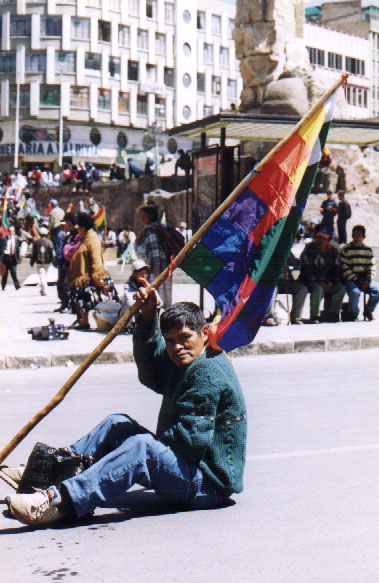 A cocalero (coca farmer) takes part in a blockade of the main road in La Paz, Bolivia, September 1998.
By Federico Fuentes
November 29, 2008 -- Having captured the imagination of progressives across the globe with scenes of indigenous uprisings confronting right-wing governments and multinationals, Bolivia has become a key focus point of discussion within the left regarding strategies for change.
However, starry-eyed notions and schemas rather than reality have often influenced the views of left commentators on the revolutionary process unfolding in South America's poorest nation.
At the centre of this debate is the Movement Towards Socialism (MAS), led by indigenous President Evo Morales, and its strategy for refounding Bolivia.
After three years of the Morales government it is possible to draw some tentative conclusions about this social experiment.