Click on Links masthead to clear previous query from search box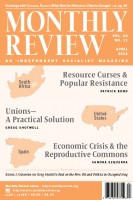 Links International Journal of Socialist Renewal
seeks to promote the exchange of information, experience of struggle, theoretical analysis and views of political strategy and tactics within the international left. It is a forum for open and constructive dialogue between active socialists from different political traditions. It seeks to bring together those in the international left who are opposed to neoliberal economic and social policies, and reject the bureaucratic model of "socialism" that arose in the Soviet Union, Eastern Europe and China.
Inspired by the unfolding socialist revolution in Venezuela, as well as the continuing example of socialist Cuba, Links International Journal of Socialist Renewal is a journal for "Socialism of the 21st century", and the discussions and debates flowing from that powerful example of socialist renewal.
Links is also proud to be the sister publication of Green Left Weekly, the world's leading red-green newspaper, and we urge readers to visit that site regularly.
Please explore Links and subscribe (click on "Subscribe to Links" or "Follow Links on Twitter" in the left menu). Links welcomes readers' constructive comments (but please read the "Comments policy" above).
This site is best viewed with the Firefox internet browser.
John Bellamy Foster, Marxist ecologist and editor of Monthly Review, addressed the Climate Change I Social Change Conference on ``Capitalism and Climate Change'', Sydney, April 11, 2008. Foster's talk was part of a panel discussing ``Climate change and its social roots''. The conference was organised by Green Left Weekly. Below is Foster's talk in five parts. Click here for an audio recording of all the speakers on the panel, which included Patrick Bond from the University of KwaZulu-Natal and editor of Climate Change, Carbon Trading and Civil Society. John Bellamy Foster discusses Marxism and the environment further here.
On April 10, 1993, South African Communist Party (SACP) leader Chris Hani was asassinated by right-wing extremists hoping to derail South Africa's transtion to democratic rule. On the 15th anniversary of his death, Links reproduces a speech by socialist and African National Congress (ANC) veteran Pallo Jordan delivered to mark the 10th anniversary of the assassination.
***
By Dr Pallo Jordan
Allow me first to thank the leadership of the SACP and the central executive committee of Congress of South African Trade Unions (COSATU) for inviting me to deliver this inaugural Chris Hani Memorial Lecture. I consider it a great honour to have been chosen for this task because Comrade Chris was a close and very dear friend of mine.