Click on Links masthead to clear previous query from search box

Socialist Party (Spain)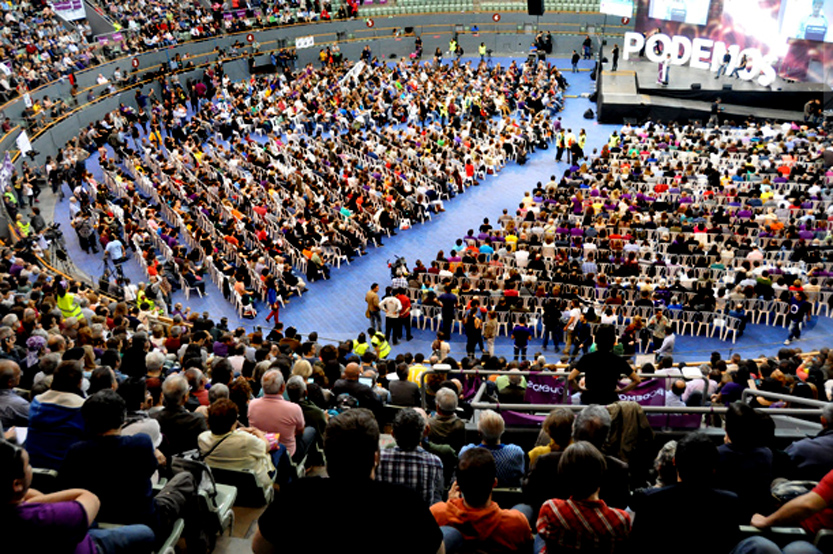 By Dick Nichols
March 11, 2017 — Links International Journal of Socialist Renewal — In the end the close result that participants and commentators alike were expecting never happened: at the second congress ("citizens' assembly") of the radical Spanish anti-austerity party Podemos, held in Madrid on February 11-12, the proposals and candidate list of outgoing general secretary Pablo Iglesias easily defeated those of outgoing political secretary Iñigo Errejón.
February 10, 2017 — 
Links International Journal of Socialist Renewal
— February 6 marked the 80th anniversary of the start of the "Battle of Jarama" during the Spanish Civil War, as left-wing and democratic forces fought to stop the fascist forces of General Franco taking power.
Alongside the Battle of Madrid, the Battle of Jarama is commonly associated with the participation of the International Brigades — volunteers, often organised by Communist parties, who travelled from around the world to Spain to join the anti-fascist fight in defence of the 1931-39 Spanish Republic.
Following Franco's failure to take Madrid in October-November 1936, the fascist forces attempted a military offensive in February 1937 on the western flank of the Spanish Republic forces, alongside the river Jarama. While the offensive failed, and the counter-offensives by the Republican forces effectively turned the battle into a stalemate, the battle itself became synonymous with the military, political and moral contribution of the International Brigades to the anti-fascist struggle.
Holding the frontline at Jarama were thousands of volunteers from Britain, Ireland, United States, Italy, France, Belgium and many others who came from around the world to defend Spanish democracy against Franco, Hitler and Mussolini.
Among a handful of surviving International Brigadiers remaining today is
José Almudéver Mateu
.
By Dick Nichols

November 16, 2016 — Links International Journal of Socialist Renewal — In the end, on October 29, it all worked out pretty well for Mariano Rajoy. After patiently implementing his motto that "all things come to he who waits", the leader of the minority conservative People's Party (PP) was that day confirmed as Spain's prime minister for a second four-year term.

Two days later, Rajoy was sworn in by King Philip and normal operations were resumed in the institutions of the Spanish state after ten months of tension and turmoil springing from the inconclusive general elections of December 20 and June 26.

These had converted the two-party system into a four-party game, with newcomers Podemos (on the left) and Citizens (on the right) drawing millions of voters away from the PP and the Spanish Socialist Workers Party (PSOE), Spain's other traditional "party of government". No party had a majority and the second election was called because the PSOE's attempt to form a government with Citizens failed because of the opposition of the PP, Podemos and the rest of the left, as well as of Basque and Catalan nationalist forces.