United States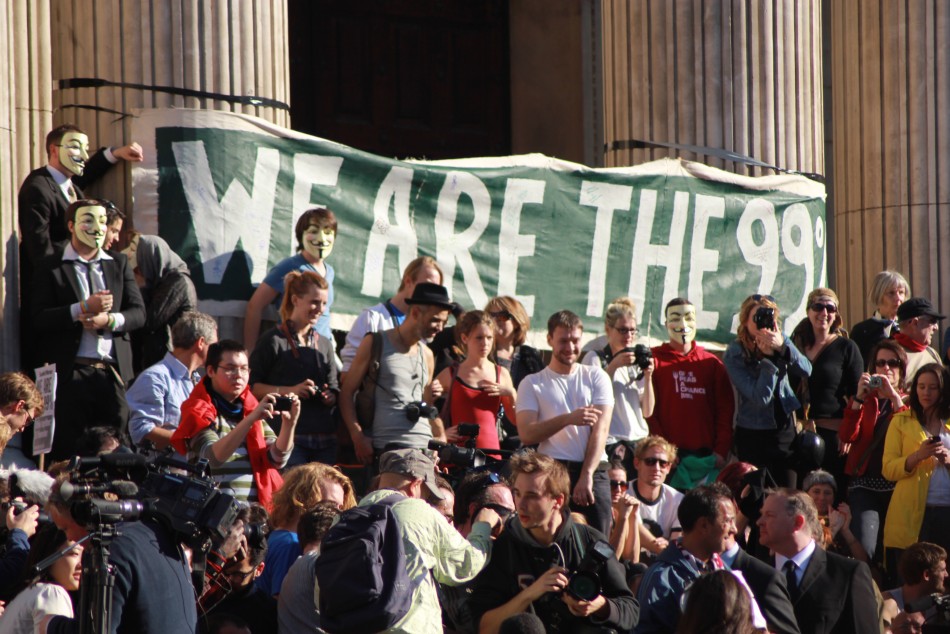 Occupy the London Stock Exchange.
By Mike Marqusee
January 23, 2012 -- Red Pepper (February-March 2012) via Mikemarqusee.com -- 2011 has been hailed in the media as a year of "protest" in the abstract, but it's been more challenging and concrete than that. In defiance of received political wisdom, mass action in the streets returned with undeniable impact. Contests over space and the public domain became vehicles for the assertion of radical alternatives, which thereby forced their way into a discussion long restricted to a narrow consensus.
In Europe and North America, this democratic insurgency sought to free democracy itself from the straitjacket imposed by neoliberalism, which has deepened the historic tendency of capitalism to confine "politics" to the non-economic realm. Raising the banner of the 99%, the Occupy movement (with associated developments) broke through 30 years of neoliberal ideological hegemony to make the system itself – and the interests that drive it – the subject of debate. As a result, perceptions of the possible have been redefined. Horizons broadened. We do not have to be slaves of the financial sector, sacrificial victims to appease angry fiscal gods. Whatever else, this systemic challenge means the struggles of the coming years will be fought out on different terrain.
Demands
[For more on Martin Luther King, click HERE.]
By Billy Wharton
January 16, 2012 -- Socialist Webzine, posted at Links International Journal of Socialist Renewal with permission -- More than 40 years since the death of Martin Luther King Jr., his significance remains an uneasy battleground between those wishing to sanitise his legacy and those seeking to draw inspiration from his radical deeds and words.