Trotskyist movement (Australia)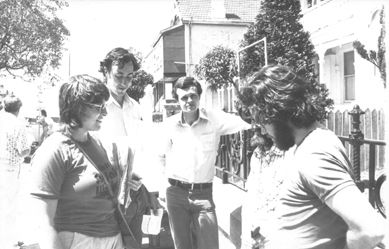 The photo above (Sydney, c 1975) shows (from left): Joy Ecclestone, Dave Holmes, Doug Lorimer, (obscured unknown) and Geoff Payne.
[For more by or about Doug Lorimer, click HERE.]
By Dave Holmes
[These brief remarks were delivered at a memorial meeting for Doug Lorimer in Melbourne on October 25, 2013, organised by Socialist Alternative.]
October 25, 2013 -- Links International Journal of Socialist Renewal/Arguing for Socialism -- The July 27, 2013, Green Left Weekly carried an obituary for Doug Lorimer written by Pat Brewer. For comrades interested in the basic details of Doug's political CV I would recommend it.
I first met Doug in February 1971 in Adelaide. John Percy, myself and Dave Riley went over as a national investigating commission of the Socialist Youth Alliance (SYA). Two members of the local SYA branch were or had become Maoists and were causing us some political embarrassment. Doug Jordan was the branch organiser.
Barry Sheppard (right, holding banner pole with Sylvia Weinstein) at an anti-war march in New York in 1966.

The Party, The Socialist Workers Party 1960-1988, Volume I: The Sixties, a Political Memoir by Barry Sheppard, Resistance Books (Sydney), 2005, 354 pages.
The Party, The Socialist Workers Party 1960-1988, Volume II: Interregnum, Decline and Collapse, 1973-1988, a Political Memoir by Barry Sheppard, Resistance Books (London), 2012, 345 pages.
[For more discussion of the US SWP, click HERE.]
Review by Peter Boyle
'Primal Socialist Innocence and the Fall'?: the ALP Left in Leichhardt Municipality in the 1980s
By Tony Harris*
---
During the 1970's and the early 1980's, hundreds of people flooded into the ALP branches of the Municipality of Leichhardt. They constituted a new element of the ALP Left, influenced to one degree or another by the social movements of the late '60s and early '70s, or by the experience of the Whitlam Government. They became locked into a fierce struggle for power with local political machines, and behind them a state ALP branch, dominated by the Labor Right. But when, in the early 1980's, the moment of power arrived, this Left fell into bitter disarray, fragmenting along a spectrum that spilled out of the Party. This tale of political 'innocence' and 'fall' traces through the loss of the municipal council and state parliamentary seat and is dramatically symbolised in the fraught struggle over the future one of the most significant labour (and Labor) history sites: Mort's Dock. As such it reveals the historically contingent nature of the 'middle-classing' of the ALP during this period.