Click on Links masthead to clear previous query from search box

Bulgaria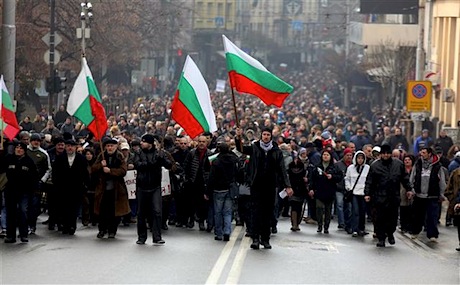 Mass protest in Sofia, Bulgaria's capital, February 17, 2013.
March 15, 2013 -- Left Unity, posted at Links International Journal of Socialist Renewal with permission -- In the last week of February 2013, after days of protests across the country, the Bulgarian government headed by Boyko Borisov resigned. Mariya Ivancheva looks at how it happened and what comes next.
From the beginning of February, Bulgarians in most big cities have been out in the streets, protesting against increased electricity and heating bills. While the increase has happened gradually throughout 2012, in January 2013 the bills were considerably bigger than they would normally get. The price formation was transparently written down on the bill, but what angered many is that a significant amount of money was charged not for energy per se but for various taxes and tariffs.