Remember Rachel Corrie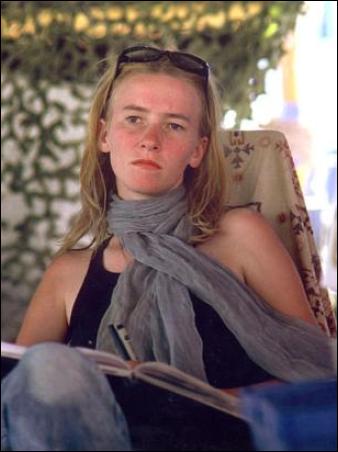 By Billy Wharton, co-chair Socialist Party USA
March 16, 2010 -- Today marks the anniversary of the tragic death of International Solidarity Movement (ISM) activist Rachel Corrie. On March 16, 2003, Corrie was killed by an Israeli Defence Force (IDF) bulldozer while non-violently resisting the destruction of a Palestinian home. Her death came to symbolise the daily violence faced by Palestinians in the occupied territories as well as the spirit of international solidarity that democratic socialists throughout the world draw political strength from.
Rachel Corrie was so moved by the struggle of the Palestinian freedom struggle that she took leave from Evergreen State College and joined the ISM in Palestine. After spending a few weeks in the Gaza Strip, Corrie described the Palestinians as "surrounded by murderous towers, tanks, armed 'settlements' and now a giant metal wall". House demolitions and military incursions by the IDF intensified throughout early 2003. ISM activists and their Palestinian counterparts countered this repression with daily acts of heroic non-violent direct action by placing their bodies in front of bulldozers and heavily armed military units.
On March 16, 2003, acting under the pretense of eliminating guerilla hideouts and smuggling tunnels, the IDF attempted to destroy the house of Palestinian pharmacist Samir Nasrallah. Rachel Corrie, along with several other ISM activists, formed a human shield in front of the house. Witnesses from the ISM, in a report compiled by the Palestinian Centre for Human Rights, testified that the IDF bulldozer driver could clearly see Corrie, who was dressed in the standard ISM fluorescent vest, yet proceeded to crush her to death with the blade of the bulldozer.
Corrie's death became an international news event that helped to shed more light on the daily brutality of the Israeli occupation of Palestine. Many more Palestinians have died since 2003. Most perish in anonymity – nameless and faceless victims of a never-ending cycle of occupation and repression. They are known only to family members who are left to bury and mourn them, wondering how many more victims there will be. While Corrie's death drew international outrage, the loss of life on the part of Palestinians is seldom recognised.
Still Rachel Corrie's life and sacrifice should be commemorated. It gives testimony to the capacity of youth in the United States take action in support of greater freedom and justice in the world. Too often, young people accept the position created for them by late capitalism – to live empty lives centred on consumption with no hope for political change. Rachel Corrie became an active participant in history and her death contributed to the continuing struggle for Palestinian freedom.
She reminds us that Americans have a special responsibility to help end the conflict between Israel and Palestine. We can continue the work of Rachel Corrie by raising the demand for an immediate end to all US aid to Israel. As she said so clearly in an email to her parents: "I am in the midst of a genocide which I am also indirectly supporting, and for which my government is largely responsible."
Remember Rachel Corrie by supporting the creation of a new foreign policy built upon socialist values of international solidarity and peace.
* * *
Read the words of Rachel Corrie here: http://rachelswords.org/.
[Billy Wharton is the co-chair of the Socialist Party USA and the editor of The Socialist and the Socialist WebZine.]