Exclusive excerpt: 'Ruth First and Joe Slovo in the war against apartheid' (Monthly Review Press)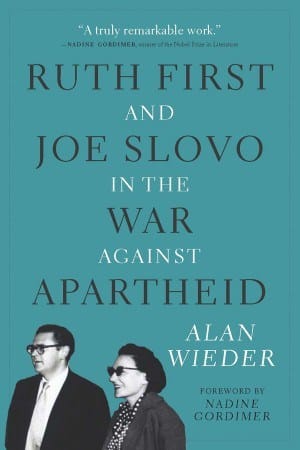 The following is an excerpt from Alan Wieder's new book, Ruth First and Joe Slovo in the war against apartheid, published by Monthly Review Press. It is posted with the kind permission of Monthly Review Press. Readers of Links international Journal of Socialist Renewal are urged to order a copy HERE.

You can download the excerpt HERE (PDF), or read it on screen below. Nadine Gordimer's foreword is available at HERE.
July 14, 2013 -- Links International Journal of Socialist Renewal -- Ruth First and Joe Slovo, husband and wife, were leaders of the war to end apartheid in South Africa. Communists, scholars, parents, and uncompromising militants, they were the perfect enemies for the white police state. Together they were swept up in the growing resistance to apartheid, and together they experienced repression and exile.
Their contributions to the liberation struggle, as individuals and as a couple, are undeniable. Ruth agitated tirelessly for the overthrow of apartheid, first in South Africa and then from abroad, and Joe directed much of the armed struggle carried out by the famous Umkhonto we Sizwe. Only one of them, however, would survive to see the fall of the old regime and the founding of a new, democratic South Africa.
This book by Alan Wieder, the first extended biography of Ruth First and Joe Slovo, is a remarkable account of one couple and the revolutionary moment in which they lived. Alan Wieder's heavily researched work draws on the usual primary and secondary sources but also an extensive oral history that he has collected over many years. By intertwining the documentary record with personal interviews, Wieder portrays the complexities and contradictions of this extraordinary couple and their efforts to navigate a time of great tension, upheaval, and revolutionary hope.
A truly remarkable work. Alan Wieder shows himself as a writer equal to their life story, their inspiring bravery in action and self-analysis.

—Nadine Gordimer, author, activist, winner of the Nobel Prize in Literature
Demonised by apartheid, Joe and Ruth were revolutionary heroes for black South Africans. They were formidable opponents in word and deed. This absorbing account does them justice and illuminates the complexity and richness of their often stormy relationship and extraordinary times.

—Ronnie Kasrils, anti-apartheid leader and solidarity activist; former Minister of Intelligence in South Africa; author, The Unlikely Secret Agent.
Wieder's book enlarges and enriches our understanding of the lives of First and Slovo, their intense and turbulent relationship, their personalities and impact on others, and their various roles as lawyer, journalist, underground operative, researcher, teacher, author, political and military leader, negotiator and cabinet minister. The evocation of the Johannesburg left during the 1950s—Gillian Slovo called them her parents' Camelot years—is vivid and well-observed. Ruth, Joe, and their circle combined commitment and camaraderie with conspiracy and concealment—and also with carelessness and complacency. The account of tensions between the ANC and SACP, and Joe's efforts to reconcile African nationalism and socialism, is nuanced and important. The discussion of Ruth as writer-researcher and researcher-teacher makes use of earlier evaluations, but goes beyond them in an important assessment of her work as an academic engagé.

—Colin Bundy, former principal of Green Templeton College, University of Oxford.
It has been a real privilege for me to read Alan Wieder's book. It brought me back in touch with two remarkable and complex people and activists. Ruth First and Joe Slovo emerge from this book as flesh and blood human beings facing monumentally difficult decisions. Each of them, and those dearest to them, paid a high price for their respective life choices. Yet Ruth and Joe's integrity and full-throated commitment to a different kind of South Africa not only played an important role in doing away with the obscenity that was apartheid, they also represent a clear road not taken in post-apartheid South Africa. This book evokes a vital period which became a focus of myth-making rather than the kind of clear-eyed, honest history Ruth and Joe would each have ultimately have deemed essential.

—Dan O'Meara, author, Volkskapitalisme, and coauthor, The Struggle for South Africa.
To the Movements he led, he was known by his initials. JS. His last name had become anthemic when the mostly black guerilla army belted out "Joe Slovo" in song as they marched on parade or executed sabotage missions in the secret war against apartheid. You can't really appreciate South Africa's transition to democracy without knowing why Nelson Mandela relied on his sense of strategy and how his bravery inspired a revolution committed to non-racialism. He was a communist known for red socks and a willingness to make compromises with capitalists that sealed the path to freedom. And just like Nelson's relationship with Winnie made him stronger through his long years in confinement, Joe's often tumultuous relationship with his wife and comrade Ruth First, a brilliant journalist and analyst, until her assassination, helped define the discourse of the ANC's painful years in exile. Now Alan Wieder has plunged into their past of domestic and political struggle to share their story with the scope, context, and detail that it deserves. And we all will appreciate his commitment and style in critically respecting their contributions and bringing this dynamic duo alive as the complex, loving and caring people they were.

—Danny Schechter, founder and director of South Africa Now, director of six films on Nelson Mandela
Visit the blog for Ruth First and Joe Slovo in the War Against Apartheid.
Alan Wieder is an oral historian who lives in Portland, Oregon. He is distinguished professor emeritus at the University of South Carolina and has also taught at the University of the Western Cape and Stellenbosch University in South Africa. In the last ten years he has published two books and numerous articles on South Africans who fought against the apartheid regime. Nadine Gordimer is a South African writer and activist. She was awarded the Nobel Prize in Literature in 1991.
You can download the excerpt HERE (PDF), or read it on screen below.
Exclusive excerpt: Ruth First and Joe Slovo in the war against apartheid (Monthly Review Press)