Ireland: A new party called hope -- Right2Water unions begin new left process (with videos)
Irish protest against water charges at the GPO in January.
By Rory Hearne
May 8, 2015 -- Broadsheet.ie, posted at Links International Journal of Socialist Renewal -- Hope has been in short supply in Ireland in recent years but, thankfully, it has emerged in recent months. But this hope has not come in the so-called "recovery", which is deeply uneven across the country and from which the majority of people remain excluded.
No, the real hope emerged, first in the mass protests against water charges, and now in the possibility of a new political movement built from the grassroots of these unprecedented protests.
Since Ireland's independence in 1921 the overwhelming majority of Irish governments have been composed of the tweedle-dee, tweedle-dum parties of Fine Gael/Fianna Fail/Labour Party. What have they achieved for ordinary people? Corruption, inequality and austerity are now the hallmarks of the Irish Republic, a centenary after its founders aimed for a Republic of equality.
But an alternative is rising. The first steps have been taken with the launch of a set of "policy principles for an alternative democratic and progressive government" [also see below] by the trade unions involved in the Right2Water campaign.
Their proposals for a new government are broad ranging and visionary. They include holding a referendum to enshrine in the constitution that water remains in public ownership and management, introducing the right to gainful employment and a living wage through a Decent Work Act, enshrining the right to housing in the constitution, rent control and a state-led national home building program.
Other proposals include the creation of a universal healthcare system free at the point of entry, a European Debt Conference to restructure sovereign debt throughout the Eurozone; the introduction of a Financial Transaction Tax in order to repay states for the private bank debt they assimilated; and a state led and democratically accountable programme of restructuring and writing down of mortgage debt.
Outlining the need for "real and meaningful reform of our local and national democratic processes which would put citizens at the heart of decision making" they propose that citizens should have the capacity to recall elected members of parliament before the end of term and the ability to propose changes to the constitution or call a referendum in relation to legislation introduced by the Oireachtas.
It is clear to many people that a real change is needed and, what is most significant about the current time, is that increasing numbers are now seeking alternatives to the traditional, establishment, political parties.
The most recent opinion polls show that the traditional establishment parties could only achieve a combined core vote of 40% (Fine Gae 20%, Fianna Fail 14%, Labour Party 6%) with Sinn Fein at 20%, independents 18%, with 20% undecided. Recent polls have also shown that almost half of voters want a new party to be formed and two thirds do not trust the current party political system.
My own research into the views of those who have protested against water shows that an overwhelming majority believe that there is a need for a new political movement/party in Ireland.
This is radically challenging the conventional conservative assumptions and analysis of Irish politics and citizen engagement. There is a clear opportunity for a new political party to emerge.
However, the question to be answered is whether or not this current wave of anti-establishment sentiment can be converted into a process of political change. That depends ultimately on what type of new political party/movement emerges and whether it can be done in time to have an impact on the coming general election.
Key to the success of such a new party will be achieving the support of the people in the currently "undecided" and "independent" category. How could this be done? We can look to the example of the new Podemos (Yes We Can) party that has spectacularly emerged in Spain.
They have created a new party that is winning large support through a platform of broad anti-corruption and-austerity policies, declaring that it is neither left nor right but for the ordinary people against the elite in Spain, Europe and the financial markets.
They have involved people who do not normally engage in traditional politics through local community meetings and online processes of voting on party policy. This is important as it is clear that people want new ways of doing politics that is inclusive and democratic.
The Right2Water unions' policy proposals are hopeful in this regard. They are clearly aiming at a broad audience and want to try achieve unity among a diverse coalition of left parties, independents and community groups.
Right2Water unions have even developed their policy principles, not as a completed election manifesto as is traditionally the case, but are currently looking for submissions from the general public on the proposals to feed into a conference they are organising on June 13. This is a real opportunity for ordinary citizens to contribute to a process that could dramatically change this country.
While the government and media are claiming the growth figures (at least half of which are based on multinational activity that has no relation to the real Irish economy) point to a "recovery" the reality for most people is on-going suffering from debt, a housing crisis that has become an emergency (from overburdening rent, mortgage, homelessness repossessions), low pay, casualisation and zero-hours contracts, major problems accessing health services, worsening long term unemployment, rural decline, and the continued poor housing and community facilities for people living in disadvantaged areas.
Meanwhile the Siteserv controversy has just confirmed what many people are feeling – that there is little difference between the Fine Gael/Labour administration and the cronyism and corruption of the Fianna Fail years.
Podemos in Spain has developed a new language and approach to politics that has tapped into, and mobilised, widespread citizen disgust and opposition to the establishment elite.
Much work is required to develop a similar type political alternative in Ireland but the political atmosphere at the grassroots amongst ordinary citizens suggests that the appetite is there for it.
[Dr Rory Hearne is the author of Public Private Partnerships in Ireland: Failed Experiment or Way Forward for the State? (Manchester University Press) and is a lecturer at Maynooth University.]
Sinn Féin backs Right2Water unions' initiative
May 4, 2015 -- An Phoblacht, posted at Links International Journal of Socialist Renewal -- The special "May Day Conference" on May 1 and May 2 convened by the five trade unions affiliated to the Right2Water campaign to discuss a set of core principles which will underpin a "Platform for Renewal" in advance of the next general election is being supported by Sinn Féin.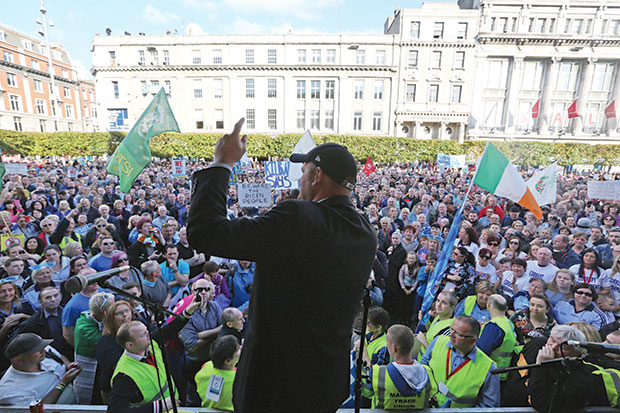 Daithí Doolan, addresses the huge Right2Water rally in December 2014.
Sinn Féin's representative on the Right2Water campaign, councillor Daithí Doolan said:
This is an exciting initiative. Sinn Féin have been working with unions to help build a broad, inclusive Left platform that would promote anti-austerity policies and a fair recovery. We want to work with unions, parties and our communities to lay the foundation for an anti-austerity government. The May Day conference could well be the first step to making that happen.
The unions involved (the Civil and Public Services Union, the Communication Workers' Union, Mandate, OPATSI and Unite) say that trade unions, individuals, political parties and independents, NGOs, academics, representatives of the not-for-profit sector and community activists will all be invited to input into this Platform for Renewal.
They say Right2Water has been one of the greatest popular mobilisations Ireland has witnessed – a grassroots movement which in reality has been about so much more than water charges.
Workers' living standards continue to be squeezed by policies which favour the interests of business over the interests of people.

Since the start of the crisis, the numbers living in deprivation have doubled

"The people have paid for a crisis not of their making. We are determined that they will not be forced to pay for the recovery.

In the interests of our members, and of our society as a whole, the five unions are calling on like-minded citizens to build this Platform for Renewal in a spirit of unity and solidarity.
Daithí Doolan added:
Right2Water has mobilised hundreds of thousands of people right across this state. Sinn Féin has played a central role since the start and we hope that this upsurge will help prevent a government led by Fianna Fáil or Fine Gael. The next general election must break the axis of reaction.
Policy principles for an alternative democratic and progressive government in Ireland