United States
By Fidel Castro Ruz
February 4, 2009 -- A few days ago I referred to some of Obama's ideas which point to his role in a system that denies every principle of justice.
Some throw their hands up in horror if anything is said to criticise the important personality, even if it is done with decency and respect. This is usually accompanied by subtle and not so subtle darts from those with the means to throw and transform them into the elements of media terror imposed on the peoples to sustain the unsustainable.
Every criticism I make is always construed as an attack, an accusation and other similar qualifiers reflecting callousness and discourtesy towards the person involved.
This time I'd rather address some questions of many that could be raised and that the new President of the United States should answer.
The following for example: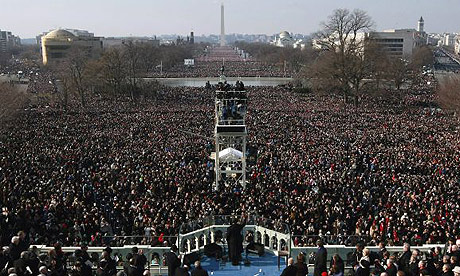 Barack Obama delivers his inaugural address after being sworn in as president of the United States. Photograph: Win McNamee/Getty Images.
By Mike Ely
For literally millions of people, for many of a new generation, the awakening to politics starts in these moments. This is the world, the arguments, the summations, the claims, the promises that they hear and that they will see unfold in the days ahead. We need to understand this moment, we need to also inhabit this world that they are seeing — in order to craft from among them a revolutionary force that can actually connect with and represent their highest hopes.