Slovakia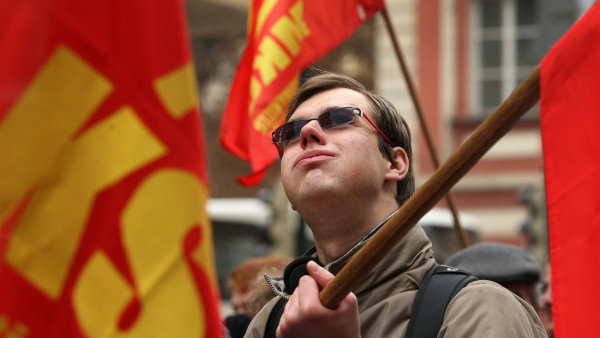 A supporter of the the Communist Party of Bohemia and Moravia (KSCM) at a party rally.
By Jirí Málek
[This analysis was presented at the international workshop of the Rosa Luxemburg Foundation "On the situation of the left in Europe after the EU elections: New challenges". Held July 21-23, 2014, in Berlin.]
Transform! Network -- Before me is the task of speaking in a limited time on things that can hardly be responsibly described in brief. For that reason please allow me to make use of a method that could be compared to tossing a flat stone along a flat surface – ever grazing the water, making a couple of little waves and flying off a little more to brush the surface again. With regards to several issues I too will merely brush the surface and rush on to others. And it is likely more questions will arise than answers.
What will I be speaking about? The Karlovy Vary Film Festival has a section called: East of the West. Likewise we will devote this time to the area east of the West, though in the slightly narrower sense of the part of Central Europe otherwise known as the Visegrad Four: the Czech Republic, Slovakia, Hungary and Poland (total 106 European parliament seats – 14.1 %).