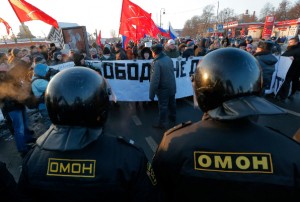 Anti-Putin protest in Moscow.
[For more by Boris Kagarlitsky, click HERE.]
By Boris Kagarlitsky, translated by Renfrey Clarke
March 30, 2013 – Links International Journal of Socialist Renewal -- In Russia, the first two weeks of January are a time when nothing happens. Members of the well-heeled layers, bureaucrats, politicians and the bourgeoisie, set off to spend their holidays abroad, distributing themselves around various locations on the basis of their means, tastes and vanity. Their destinations might range from comparatively cheap hotels in Egypt to ski resorts in France, Austria or Switzerland.
People who cannot afford such things simply drink, and shed their stress in front of the television, at their dachas in the countryside, or in the sauna.