Click on Links masthead to clear previous query from search box

Links International Journal of Socialist Renewal
seeks to promote the exchange of information, experience of struggle, theoretical analysis and views of political strategy and tactics within the international left. It is a forum for open and constructive dialogue between active socialists from different political traditions. It seeks to bring together those in the international left who are opposed to neoliberal economic and social policies, and reject the bureaucratic model of "socialism" that arose in the Soviet Union, Eastern Europe and China.
Inspired by the unfolding socialist revolution in Venezuela, as well as the continuing example of socialist Cuba, Links International Journal of Socialist Renewal is a journal for "Socialism of the 21st century", and the discussions and debates flowing from that powerful example of socialist renewal.
Links is also proud to be the sister publication of Green Left Weekly, the world's leading red-green newspaper, and we urge readers to visit that site regularly.
Please explore Links and subscribe (click on "Subscribe to Links" or "Follow Links on Twitter" in the left menu). Links welcomes readers' constructive comments (but please read the "Comments policy" above).
This site is best viewed with the Firefox internet browser.
Inquiries to Links
Due to illness affecting Links editor, Terry Townsend, publishing of pieces and communcation may be slower than usual, although we will endenvour to keep a stready flow new pieces and respond to queries as rapidly as possible. Please send queries or submissions to contact (AT) links (DOT) org (DOT) au.
June 8, 2015 -- Links International Journal of Socialist Renewal  -- The June 7, 2015, general election in Turkey saw the radical left People's Democratic Party (HDP) win almost 13% of the vote and around 80 parliamentary seats.
It passed the 10% threshold for parliamentary representation for the first time, with a total of almost 6 million votes. The HDP won all the seats in the following Kurdish cities: Batman four, Agri four, Dersim two, Hakari three, Sirnak four, Igdir two. The party won 1 million votes and 11 seats in Istanbul -– a city with a huge Kurdish population although the party also won significant non-Kurdish support there. Thirty-one of the HDP's 80 new MPs are women, the highest proportion of any party. HDP candidates included Armenians, Yezidis and Assyrians alongside Kurds. The HDP had the only openly gay candidate.
On the other hand, the ruling AKP has lost its parliamentary majority and recieved 3 million fewer votes than in 2010. The AKP lost many votes to the HDP in areas where it has had a big Kurdish following. Turkey's parliament consists of 550 seats; 276 seats are required for a single-party majority government. The ruling AKP has only secured 258 with which to try and form a coalition.
The HDP's historic gains make the success of the peace process with the Kurds within Turkey more likely, and will restrict Turkey's dubious relations with ISIS.
The speech below from HDP co-chair Selahattin Demirtaş' 2014 presidential bid outlines the HDP's vision for a new Turkey.
June 6, 2015 -- LeftEast, posted at Links International Journal of Socialist Renewal -- With Turkey's June 7 parliamentary elections fast approaching, all eyes are on the Peoples' Democracy Party (HDP) contesting its first ever election as a party, rather than a coalition of nominally independent candidates: a momentous decision on the part of the party leadership, which stands to gain clout in parliament and solidify its position as the electoral standard-bearer of the radical Left—or fall below the constitutionally mandated 10% barrier and be excluded from parliament entirely.
The oligarchs have joined forces to railroad a new labour code that strips Ukrainian workers of their already modest rights.
By Vitaly Dudin
June 4, 2015 -- Open Democracy via The New Cold War, posted at Links International Journal of Socialist Renewal -- Neoliberal modernisation in Ukraine is nothing new. The processes and forces pushing it forward long predate the ousting of Viktor Yanukovych last February. But since the events of 2014, this process has been expedited and has arrived at a key issue: the laws governing the way people work.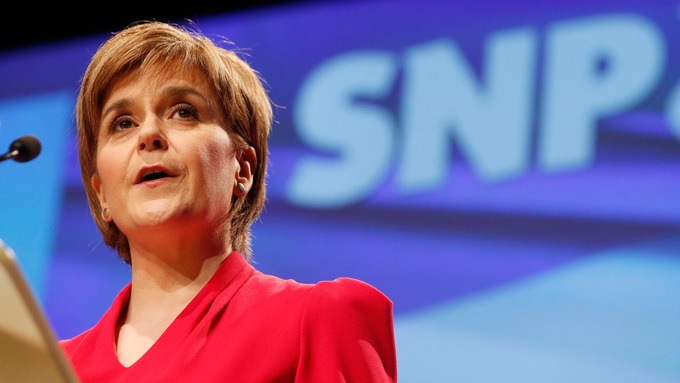 SNP leader Nicola Sturgeon.
By Murray Smith
June 4, 2015 – International Viewpoint, submitted to Links International Journal of Socialist Renewal by the author -- The day after the May 7 Westminster [British] general election, George Kerevan, newly elected Scottish National Party MP for East Lothian, was walking through his constituency. He was approached by a group of young working-class women who recognised him, proudly declared that they had all voted SNP and wanted to take "selfies" with him. When Kerevan asked why, they replied "because this is history".
They were of course right. The day before the SNP had taken 56 of the 59 seats in Scotland, leaving the Conservative, Liberal Democrat and Labour parties with one each.
US Secretary of State John Kerry with Russia's President Vladimir Putin in Sochi, May 15, 2015.
For more on the political situation in Ukraine. For more by Boris Kagarlitsky, click HERE.
By Boris Kagarlitsky, translated by Renfrey Clarke
June 4, 2015 – Links International Journal of Socialist Renewal -- On May 23, 2015, Aleksey Mozgovoy, the most popular, authoritative and independent of the Novorossiya militia commanders, was assassinated. Together with the "Spectre" Brigade which he led, Mozgovoy a few days earlier had taken part in an Antifascist Forum with left organisations from a number of European countries.
Mozgovoy was killed by an unknown group of assassins, but it is obvious that his removal from the scene differs little from the revenge meted out recently to another Novorossiya field commander, who went under the nom-de-guerre of Batman. In this earlier case, responsibility for the killing was openly assumed by the official Lugansk authorities.